Music
Choir
Handbells
Children
Ukes
Organ
The Music Program
Music at the Community Church is very diverse. During the summer months we have varied and wonderful soloists and ensembles provide our Sunday music.
Our regular groups perform during the rest of the year. Whether your interest lies in folk music, handbells, brass, chancel choir or even ukuleles, we have a music program for everyone. Even if you have not had the opportunity to be part of one of these groups in the past, you are invited to join in now.


Staff Musicians
Karna Roa, Handbell Director
Karna has been a part of the musical life of the Community Church since she joined Glenda Elvy's children's choir in 1980. In 1986 Karna began ringing with the newly formed handbell ensemble under the direction of Joyce Morrow and has been ringing at the Community Church for the past 35 years. In 2002 she became the director of the ensemble and continues to enjoy the thrill of ringing with the group and preparing music for worship. In 2021 she became the newest member of Sonos, the professional handbell ensemble based out of the Bay Area.
J. Althea, Keyboardist
J. Althea has been playing the piano since age 4. Her grandmother (Althea) taught her to play by ear, teaching her the repertoire of the late 1800s and early 1900s, and also Methodist hymns. Althea also had a standard piano teacher, so she learned to read music and music theory.

Althea's piano career began at age 16 while in high school, and that led to playing professionally all her life. She has worked in music venues and theatre for over 50 years as a professional pianist, music director, arranger, composer, actress, theatre director, and piano teacher.

In the last 3 decades Althea has embraced playing in churches, and looks forward to serve at Community Church of Sebastopol as long as God intends.


Andy DelMonte, Choral Director
Andy DelMonte has been a member of Community Church since 1999. He first came to us as our Chancel Choir director in 1998, serving for one year.

Andy has been the choir director at the local high school in Sebastopol since 1997. In 2013, he was named Teacher Of The Year for West Sonoma County, and in 2017 he was named Director Of The Year by the Northern California Band And Choir Directors Association. He lives in Sebastopol with his wife Kristen. They have two daughters at home (Elia and Erika) and two adult children (Ethan and Emma) out of the the house. Andy is an avid composer and arranger, and in addition to making music, he enjoys riding bikes, running, and watching professional soccer.
The Chancel Choir
The Chancel Choir rehearses from 7:00 to 8:30 in the choir room at the church every Thursday evening between late August and early June. The choir sings on average two Sundays per month in worship. All ability levels are welcome to join. If interested in joining the choir, feel free to show up at a rehearsal, or contact our choral director, Andy DelMonte at ChoralDirector@uccseb.org

To ensure the safest environment possible during the pandemic, we are requiring proof of Covid vaccination to participate in the Chancel Choir. Thank you for your understanding in this.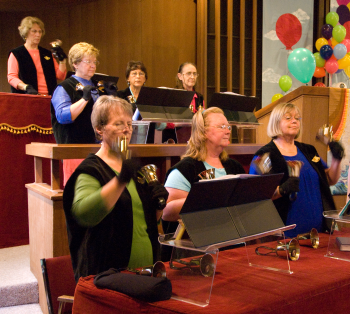 The Handbell Choir
The handbell choir of the Community Church of Sebastopol formed in 1986 under the direction of Joyce Morrow. The handbell choir saw three other directors until Karna Roa began as director in 2002. For the last 16 years, Karna has guided the musicians to prepare music for services once per month along with special Easter and Christmas services. The handbell choir plays with five octaves of Schlumerich handbells, two octaves of Malmark bells, and three octaves of Suzuki handchimes.
We always welcome new members to join our handbell choir. It helps greatly if you know how to read music, however it is not a strict requirement. It's more important that you know how to count, have a little rhythm, and a whole lot of determination to try something fun and new.
Please contact the church office or Karna Roa if you are interested in joining!
The Children's Choir
We are currently in the process of rebuilding a strong children's choir - please contact the church office with any questions at 707.823.2484.
Ukuleles
The UkeStars never take a break and will practice at their regular time and place through the summer!
Vicki Reno hosts a Ukulele group that meets Friday mornings in Fellowship Hall from 10-11:30 am. Vicki teaches and will even provide a ukulele to interested adults. For information, contact Vicki via email.
Organ



Content coming here soon...